Eric Hutchinson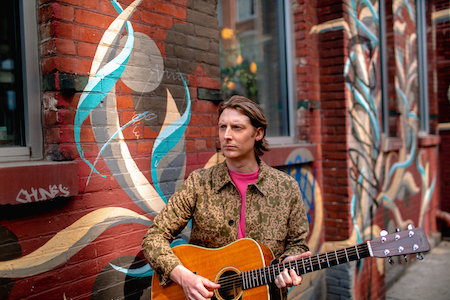 Wednesday, October 25, 2023
$38 Advance | $40 Day of Show
Doors 7pm | Show 8pm

Singer/songwriter Eric Hutchinson is feeling nostalgic as he prepares to spend 2023 celebrating the 15th anniversary of his debut album, Sounds Like This. "It's a special record for me - one that changed my life, my career, and introduced my music to a new audience I could only have dreamt of," the Takoma Park, MD native reflects. To commemorate the anniversary, Eric has announced that he will be playing shows all year long, performing the album in its entirety. He's also revealed that Sounds Like This will finally be available on vinyl for the first time ever. Furthering the deep-dive into his past, Eric also released a new single, "Sad Songs", a forgotten pop tune he wrote and performed regularly on tour in 2008 but never got the chance to record until now.

"I'm thrilled to spend 2023 reflecting on how my life and the world has changed in 15 years," Eric says. "I hope people will join me on the trip down memory lane. Maybe bring a long-lost college friend to one of my concerts, or give Sounds Like This a re-listen for the first time in forever and remember what life was like back in 2008 - when Barack Obama was elected president, BlackBerrys were all the rage, and watching Netflix meant getting little red DVD packages in the mail."


Sounds Like This ended up being a chart-topping album released by Warner Bros. Records, but it almost never happened. Just before Eric recorded those songs, he says he was a frustrated kid who was seriously considering quitting music. "I had spent several years toiling away on the road, playing tragically low-attended shows, and recording several failed albums that were not ready for prime time," Eric remembers. But as discouraged as he was at the time, Eric says he hated the idea of telling his friends and family that he had quit music. "I decided to dig down deep and make one last-ditch attempt to record a professional debut that lived up to the legacies of my musical heroes like Stevie Wonder, The Beatles, Paul Simon, and Michael Jackson," Eric recalls. "I went for broke, literally, to capture the music that I was hearing in my head - the songs that represented me at that time. I could never have imagined where those songs would take me."


Eric connected with some big-league producers and engineers and convinced them to work with him. He set up shop at New Monkey Studio in Van Nuys, CA and enlisted the help of producer Will Golden, as well as accomplished session players like Gary Novak on drums, Chris Chaney on bass, and Deron Johnson on keys. "I have such crisp memories of seeing those songs take shape in the studio, " Eric says. "Back then, I was touring exclusively as a solo acoustic artist out of necessity - I didn't know how to lead or play with a band yet and I was still learning how to make a record. I remember Gary and Chris coming in - they had played with acts like Alanis Morisette, Sara Bareilles, and Shakira. They were pros, but they were very generous and patient with me. They taught me so much about how to find the groove and the vibe for a song in the studio." The makeshift band recorded upbeat soul-funk songs like "You Don't Have To Believe Me" and "Outside Villanova" - tracks that are now well known to Eric's listeners. From there, the tracks went to mixing engineer Neal Pogue. "I was so lucky to have Neal work on the record," Eric remembers. "He had mixed OutKast, Citizen Cope, Stevie Wonder - some of my favorite artists and inspirations. I sent him a message on Myspace asking if he'd want to work with me and I couldn't believe it when he actually wrote back and said yes! I was some random unknown guy. I remember on the first day of mixing, he asked for his check and I gave it to him. He handed it to his wife and she took it directly to the bank. Neal and I just sat there, waiting in his mixing studio. Then Neal got a phone call from his wife that the check had cleared. He put the phone down, pulled his chair up to the mixing board and started in on the record."


Eric finished the album and shortly after moved to New York City in 2007. He continued making the rounds as a regular performer at small independent music clubs like Ram's Head Tavern in Annapolis, MD, The Cutting Room in New York City, The Hotel Cafe in Los Angeles and Schuba's in Chicago. After some time, Eric says his music miraculously ended up in the hands of Perez Hilton, the original celebrity social media influencer. "Perez posted some of my songs from Sounds Like This on his massively popular blog with an absolutely glowing endorsement, and people responded. Within 12 hours, my songs had gone viral - but I think we just called it "blowing up" back then?" Eric says with a laugh. After years of hard work and what felt like never-ending setbacks, Eric had caught a break and was an overnight sensation. Sounds Like This catapulted into the top 10 of iTunes, becoming the highest charting album by an unsigned artist in iTunes history, and debuted at #1 on Billboard's Heatseekers chart. Soon after, Eric found himself in a bidding war between several record companies, eventually signing with Warner Bros Records who officially released Sounds Like This in April, 2008, along with a massive publicity campaign. "Suddenly, I was out on the road year-round, living my dream," Eric remembers. "I was visiting radio stations by day and playing concerts for actual human beings by night. It was incredible."


2008 was a whirlwind of a year for Eric, criss-crossing the country over and over again by plane, car, and tour bus. "I put my head down, worked as hard as I could, and said yes to everything that came my way." By the time he stopped to catch his breath, Eric had performed on "The Tonight Show", "Jimmy Kimmel Live!", and NBC's "Macy's Thanksgiving Day Parade". He had shared large stages with acts like OneRepublic, Kelly Clarkson, Jason Mraz, and O.A.R. And his single "Rock & Roll" was a certified gold record and a #1 radio hit in America, Australia, New Zealand, and Norway.


"Looking back on those times, I remember lots of exciting, unbelievable moments," Eric recounts. "But I also got lost in the blur of the climb and I didn't always get to enjoy the moment as much as I wish I could have. When I realized the 15th anniversary of Sounds Like This was approaching, it felt like a perfect chance to revisit this music and reflect on the long and winding road I've been walking ever since then."


Today, Eric is a seasoned musician and touring artist who's released eight albums, performed in all 50 states and experimented with diverse kinds of musical genres like pop, folk, reggae, alternative rock, and jazz. Still, more often than not, Eric says if people are familiar with his music, they know the songs from Sounds Like This. "I love getting to hear stories from so many people who remember growing up with the music," Eric says. "I'll meet people and they'll tell me about watching the music video for "Rock & Roll" on VH1 while getting ready for school, or listening to "Food Chain" on a burned mix CD that an older sister made to celebrate getting her driver's license, or singing "Ok, It's Alright With Me" in their college a capella group. I'm proud of this album I made many years ago, but I'm even more gratified by the part my music got to play in so many other people's lives. I'm hoping I get to celebrate Sounds Like This with all those people in 2023."