Narrows Center Music Festival ft. GA-20, Brian Dunne, Ali McGuirk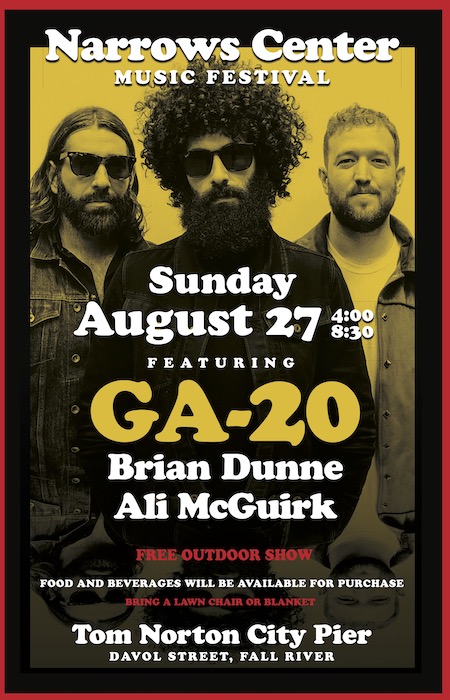 Sunday, August 27, 2023
FREE
4:00-8:30
Located at Tom Norton City Pier

The Narrows Music Festival is back, this time featuring GA-20, Brian Dunne, and Ali McGuirk! You can expect a night of stellar music, good vibes and great fun. Food and beverages will be available to purchase. Feel free to bring a lawn chair or a blanket!

*Fall River Food Pantry will be collecting non perishable food items and cash donations! Support the community and bring what you can.

Set times:
4:20-5:05 Ali McGuirk
5:25-6:25 Brian Dunne
6:45-8:30 GA-20



Parking info:


We have three parking locations with a shuttle bus running continuously from 3:30-9:00. Parking locations are at the Narrows Center in either of our 2 lots, Executive Plaza(Almacs Diner) 101 President Ave and at the corner of Taylor and Davol St.

GA-20:
GA-20 clearly is on to something big. It's a movement, a new traditional blues revival. The dynamic, throwback blues trio are disciples of the place where traditional blues, country and rock 'n' roll intersect. "We make records that we would want to listen to," says guitarist Matt Stubbs. "It's our take on the song-based traditional electric blues we love." Stubbs and guitarist/vocalist Pat Faherty, and drummer Tim Carman have been at the forefront of this traditional blues revival since they first formed in 2018. It's no wonder they skyrocketed to the top of the Billboard Blues Charts.

On Crackdown, GA-20's third full-length release, the band creates an unvarnished, ramshackle blues that is at once traditional and refreshingly modern. Expanding on their previous releases (2019's Lonely Soul and 2021's Try It…You Might Like It! GA-20 Does Hound Dog Taylor) GA-20 finds inspiration on the edges of the genre, where early electric blues first converged with country and rock 'n' roll. The album's nine original songs include the loping Louisiana-flavored Dry Run, the dirty and bare-bones Easy On The Eyes and the melodic garage tinge of Fairweather Friend. With tight, propulsive performances and a brevity and punk energy reminiscent of The Ramones, Crackdown is rowdy and fun, filled with instantly memorable and well-crafted songs.

Brian Dunne:
Born and raised in Monroe, NY, Brian Dunne learned to roll with the hits when he moved to NYC roughly a decade ago, barely scraping by at first as he forged his early career one hard-fought show at a time. Far from beating the ambition out of him, the city only sharpened his skills and thickened his skin, and in the years that followed, he would go on to release a trio of widely respected albums, share bills with everyone from Cat Power to Caroline Rose, and earn praise from the likes of Rolling Stone, who hailed "Chasing Down A Ghost" from his most recent album, 2020's Selling Things, as "a stunner." In 2021, Dunne landed an unexpected hit in the Netherlands with "New Tattoo," a standalone single that reached #2 on the Spotify Viral 50 and landed him on a slew of Dutch national TV and radio programs. Within months, Dunne had released his first album in the country and was onstage at Amsterdam's Ziggo Dome, where he was invited to perform for an audience of 17,000.

Ali McGuirk:
Ali McGuirk has made a career of captivating audiences with her powerful, buttery voice and heartfelt songwriting. Her earliest years as a performer were spent earning residencies across 4 continents, from Santorini to Hong Kong.

In 2016, she was recognized by the Boston Globe as an "artist to hear," along with Lake Street Dive, Haim and other notable names. Shortly thereafter, she released her debut, self-titled EP and has been riding that momentum ever since.

In November 2017, she released her first full-length album, "Slow Burn," which saw her working with an eclectic mix of artists, including Boston guitar legend Jeffrey Lockhart (Lettuce, D'angelo, Lalah Hathaway), Brandon Mayes (Kendrick Lamar, Soulja Boy), DeShawn D'Vibes Alexander (Marcus King, Eric Krasno) and Cilla Bonnie (Air Traffic Controller).

"Slow Burn" was named on multiple year-end lists, including Boston rock critic Steve Morse's Top Ten Albums of 2017, and contributed to Ali's current total of 7 Boston Music Award nominations and her 2018 New England Music Award nomination for R&B Act of the Year.

At the 2018 Boston Music Awards, Ali took home Blues Artist of the Year and Live Residency of the Year for her monthly First Fridays at Bull McCabe's Pub. Find Ali playing most regularly around Cambridge and Somerville or check her schedule to see when she'll be coming to a city near you.