Dark Desert Eagles – The Ultimate Eagles Tribute Band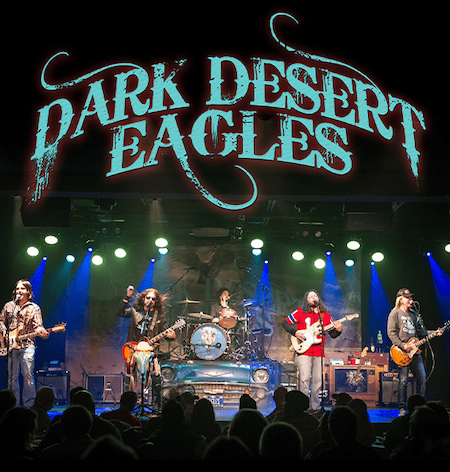 Friday, May 19, 2023
$42 Advance | $47 Day of Show
Doors 7pm | Show 8pm

For fans of The Eagles who long for the LIVE re-creation of some of the greatest hits of a generation, the Dark Desert Eagles are the ULTIMATE Tribute to The Eagles! Songs from the best-selling greatest hits album of all time "Eagles: Their Greatest Hits 1971-1975" along with hits from "Hotel California," as well as several gems from Joe Walsh's solo career are masterfully re-created during a live show of the Dark Desert Eagles. Buckle up and get ready to enjoy a stunning musical tribute to America's Greatest Rock Band in the peak of their career!

When Eagles co-founder Glenn Frey passed, Pat Badger (an original member of the multi-platinum rock act Extreme) set out to form the Dark Desert Eagles. Badger is an enormous fan of The Eagles' musicianship, vocal harmonies and timeless catalog. Having toured the world with Extreme, and having been a part of a group that sold over 10 million records featuring Top 10 hits like "Hole Hearted" and the Number 1 Grammy nominated smash hit "More Than Words," Badger had a vision for the types of musicians he would need to create the ultimate tribute to The Eagles.
"But pulling off the music is just part of it." Badger says, "We really want to bring the audience back in time to the 70s! The image is almost as important as the music and we have really paid attention to detail on the wardrobe, the hairstyles, the guitars… everything that made the Eagles so cool!" He goes on to say, "We're not just pretending to be The Eagles, we are the Dark Desert Eagles who are the self-proclaimed World's Greatest Eagles Tribute band from 1977! We have traveled through time to the present day and when the house lights go down, the audience finds themselves in a 'Twilight Zone' episode meets 'Back To The Future'… It's a blast!"