Jimmy Webb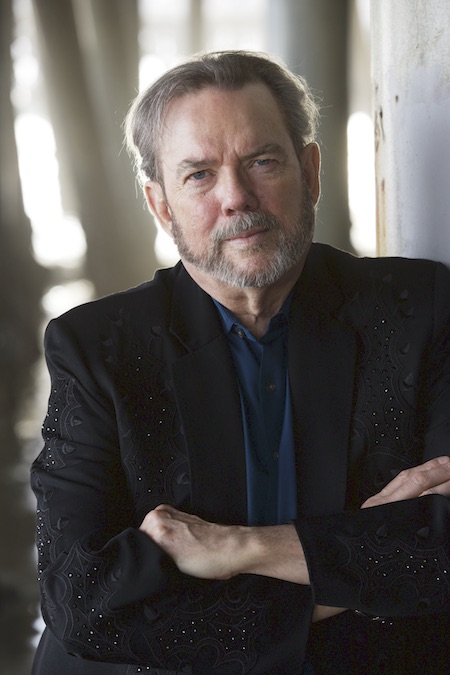 Friday, April 7, 2023
$45 Advance | $48 Day of Show
Doors 7pm | Show 8pm
Opener: Pete Mancini

Jimmy Webb is an American songwriter, composer and singer known worldwide as a master of his trade. His timeless hits continue to be performed and recorded by the industry's biggest names, and his new compositions span the musical spectrum from classical to pop. This past year saw his "Wichita Lineman" on the set list in three major artist tours – Guns N' Roses, Little Big Town, and Toby Keith – and used prominently in an episode of the Netflix series Ozark. Not many artists can say they premiered a classical nocturne and had a rap hit with Kanye West ("Do What You Gotta Do" a central hook in "Famous") in the same year, but Jimmy's career is full of surprises. Since his first platinum record "The Worst That Could Happen," Webb has had numerous hits including "Up, Up and Away," "By the Time I Get to Phoenix," "Wichita Lineman, "Galveston," "Highwayman," "All I Know" and "MacArthur Park," and has also become a leader and mentor in the industry as a champion for songwriters.

Webb is the only artist ever to have received Grammy Awards for music, lyrics and orchestration. His numerous accolades include the prestigious Ivor Novella International Award (2012) and the Academy of Country Music's Poet Award (2016). In 2016 Rolling Stone magazine listed Webb as one of the top 50 songwriters of all time. Jimmy Webb was the youngest member ever inducted into the Songwriters Hall of Fame and served as its Chairman. He has also served proudly as the Vice Chair of ASCAP. Time and again Webb has paved the way for songwriters in an ever-changing media landscape, spearheading the ongoing effort to preserve the rights of songwriters and their intellectual property in the digital age.

About the opener:
Pete Mancini got his start as the frontman and songwriter of Butchers Blind, a critically acclaimed rock band from NYC. In 2017 he released his debut solo album Foothill Freeway, which explored the Americana influences that were a hallmark of his former band. The album garnered rave reviews from NPR, No Depression and Newsday. His second album Flying First Class was released in 2019. Extensive tours of the East Coast, Midwest and South followed, establishing Mancini as a national artist.

In the Summer of 2020, Mancini flew down to Dial Back Sound in Water Valley MS to begin work on his third album, Killing The Old Ways. Produced by Matt Patton (Drive By Truckers) and Bronson Tew, the 10 song collection marked a significant artistic leap forward. The album was finally released in 2022 to critical acclaim and was included on several best of year lists.

Over the years, Mancini has opened for acts such as Jimmy Webb, Blues Traveler, Gin Blossoms, Southside Johnny & The Asbury Jukes, Pure Prairie League, Robbie Fulks, Amy Helm, Larry Campbell & Theresa Williams, Kevin Gordon, and Iain Matthews. Pete is also a member of The Famous Doctor Scanlon Band, which performs the music of Travis McKeveny.