James McMurtry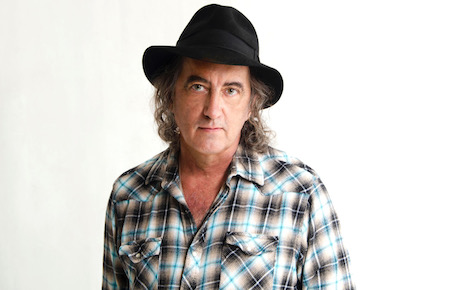 Friday, March 24, 2023
$38 Advance | $40 Day of Show
Doors 7pm | Show 8pm
Opener: BettySoo

In James McMurtry's new effort, The Horses and the Hounds, the acclaimed songwriter backs personal narratives with effortless elegance ("Canola Fields") and endless energy ("If It Don't Bleed"). This first collection in seven years, out August 20, 2021 on New West Records, spotlights a seasoned tunesmith in peak form as he turns toward reflection ("Vaquero") and revelation ( closer "Blackberry Winter"). Familiar foundations guide the journey. "There's a definite Los Angeles vibe to this record," McMurtry says. "The ghost of Warren Zevon seems to be stomping around among the guitar tracks. Don't know how he got in there. He never signed on for work for hire."

The Horses and the Hounds is a reunion of sorts. McMurtry recorded the new album with legendary producer Ross Hogarth (John Fogerty, Van Halen, Keb' Mo') at Jackson Browne's Groovemaster's in Santa Monica, California, a world class studio that has housed such legends as Bob Dylan (2012's Tempest) and David Crosby (2016's Lighthouse) as well as Browne himself for I'm Alive (1993) and New Found Glory, Coming Home (2006). McMurtry and Hogarth first worked together 30 years ago, when Hogarth was a recording engineer in the employ of John Mellencamp at Mellencamp's own Belmont Studios near Bloomington, Indiana. Hogarth recorded McMurtry's first two albums, Too Long in the Wasteland and Candyland, for Columbia Records and later mixed McMurtry's first self-produced album, Saint Mary of the Woods, for Sugar Hill Records. Another veteran of those three releases, guitarist David Grissom (Joe Ely, John Mellencamp, Dixie Chicks), returns with some of his finest work.

About the opener:
Raised outside Houston by first-generation Korean immigrant parents, BettySoo grew up listening to the Great American songbook and country radio. Older sisters led her to the world of singer/songwriters, and nights spent at The Cactus Café and Hole In The Wall turned her on to the legacy of Texas song.

Her 2007 solo disc, Little Tiny Secrets, garnered heavy regional airplay; 2009's Heat Sin Water Sin produced by Gurf Morlix (Lucinda Williams, Ray Wylie Hubbard), provided building blocks to a national (and international) audience. In 2014, When We're Gone, co-produced with cellist Brian Standefer (Alejandro Escovedo, Terry Allen) placed her firmly in the first rank of songwriters working today.

She's won the requisite awards: Kerrville NewFolk, Big Top Chautauqua Songwriter of the Year, Dave Carter Songwriting Award at Sisters Folk Festival, Mountain Stage NewSong Competition. She's played the festivals: multiple SXSW's, Kerrville, Calgary, and more. And the radio shows: E-Town, Mountain Stage, WoodSongs, BBC 2 with Bob Harris.

Until the virus shutdown, BettySoo was touring nonstop, both as a solo artist and with Nobody's Girl. Intelligent lyrics and tightly-woven harmonies keep audiences entranced, and you'd have seen her onstage singing harmonies at CD release shows for artists such as Eliza Gilkyson, or on the road with Bonnie Whitmore in support of James McMurtry's national tours.

In the Time of COVID-19, BettySoo can be found cutting a unique path through the broad streaming landscape -- and as with everything she does, she has approached it in a way that invites authentic connection, encourages compassion, and merits listening.