Jake Blount, Nic Gareiss, & Laurel Premo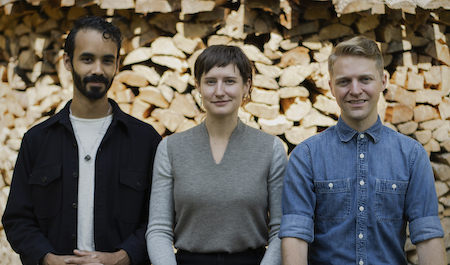 Thursday, April 20, 2023
$25 Advance | $28 Day of Show
Doors 7pm | Show 8pm

Jake Blount, Nic Gareiss and Laurel Premo, award-winning folk performers, have joined forces in a bewitchment of rich tones, deft movements and stories long untold. Through traditional songs, familiar and arcane, this new trio celebrates the deep rhythms and subtle harmonies of America's oldest musics.
Jake Blount (Providence, RI) is a singer and multi-instrumentalist described by NPR as "an Afrofuturist in roots-music garb." A winner of the 2021 Steve Martin Banjo Prize and a Smithsonian Folkways recording artist, American Songwriter has dubbed him the "King of Roots." Percussive dancer Nic Gareiss (Lansing, MI) has been named one of Dance Magazine's "25 to Watch," and has been hailed by the New York Times for their "dexterous melding of Irish and Appalachian dance." In 2020, Gareiss received the Michigan Heritage Award, the highest honor his home state bestows on traditional artists. Laurel Premo (Traverse City, MI) has spent her life immersed in American and Nordic folk traditions. As a composer, performing artist, and dance musician, Premo has developed a deep relation with fiddle, banjo, and vocal roots, and recent work reveals this experience through fingerstyle electric guitar. MTV described her sound as "subtle but dazzling and rich in texture," and her live performance as "pure hypnosis."
Blount, Gareiss and Premo are not only skilled performers, but researchers with degrees in ethnomusicology, ethnochoreology and performing arts technology. Their years of experience as performers, educators and scholars in their respective traditions have drawn them close to the creative force at the heart of music-making. The trio has brought the power of those deep bonds to bear in a new performance: a paean to their deepest roots written in wood, flesh, and lightning.