Mike Dawes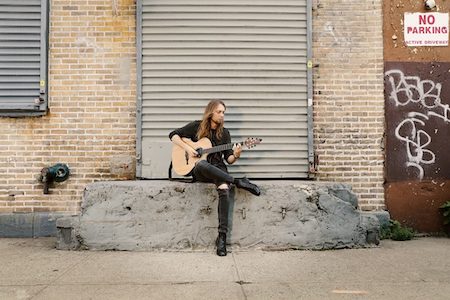 Saturday, February 11, 2023
$30 Advance | $33 Day of Show
Doors 7pm | Show 8pm
Opener: Trevor Gordon Hall


Mike Dawes is an English guitarist known for composing, arranging, and performing multiple parts simultaneously on a single guitar. He is hailed as one of the world's most creative modern fingerstyle guitarists with a repertoire spanning solo viral videos and popular arrangements, alongside mainstream chart success performing with Justin Hayward of The Moody Blues.
Dawes was named 'Best Acoustic Guitarist in the World' two years in a row by Total Guitar Magazine/MusicRadar reader polls and simply needs to be seen to be believed. His ability to combine the melody, bass, harmony and percussion all seamlessly together with just one guitar leaves audiences absolutely stunned, both with original music and popular covers.
He is now releasing his first live album, 'Shows and Distancing: Live in the USA' The album features fan favorites such as 'Boogie Shred' and 'The Impossible' as well as the brand new 'William Shatner's Paints' in its live debut. It also features many of Dawes' viral cover arrangements with unique versions of 'One' by Metallica, John Mayer's 'Slow Dancing In A Burning Room', and Gotye's 'Somebody That I Used To Know'.
Dawes says "The energy captured on Shows and Distancing is impossible to replicate away from the stage, which is something I miss dearly in these strange times. I didn't want to release a live record without capturing the live energy of the room, especially at a time where all we have is recorded music. For that reason, I've included the crazy audience moments - the clap alongs, the laughs, the singing, the banter, and all the devices I try to employ to reach the reluctant drag along at the back of the room! Shows and Distancing is about togetherness." He continues, "I hope that the moments captured on this record keep the appetites of live music fans satisfied. I feel that so many people are missing their live music fix right now and it feels like the perfect time to release a live record, even if as nothing more than a thank you to the fans for some wonderful shared memories across the USA, and across the world."
Shows and Distancing was recorded in 2019 throughout the United States, with few extras from the past. The first show was captured just off Central Park in New York City, whilst the second show turned out to be the last concert of the US tour before quarantine. The album also features some rare highlights such as Dawes' duet with Danish guitarist Quist on 'One', cut at the NAMM Show in Anaheim, CA. Added extras include previously unreleased songs from Mike's first ever headline concert in the USA.
Dawes' previous solo album, ERA, spawned a viral hit with his arrangement of 'One' that has over 4.5 million YouTube views and over 100 million more views on various social media sites. His debut record, What Just Happened?, features a large number of additional video hits with over 12 million YouTube views for two popular versions of 'Somebody That I Used To Know'. He is featured on multiple Justin Hayward live releases including Spirits...Live, which debuted at #2 on the US Billboard Chart. Dawes also has a strong reputation as an educator, acting as a columnist for Guitar World and Acoustic Guitar magazines as well as teaching multiple guitar workshops all over the world, creating apps, publishing degree level literature, mentoring on TV shows and more.
In addition to touring with Justin Hayward, Dawes has toured with fingerstyle guitarists such as Andy McKee and the legendary Tommy Emmanuel. He has also been a prominent part of several 'International Guitar Night' tours throughout North America, most recently hosting the record breaking 20th Anniversary tour in early 2020.

About the opener:
"Music" isn't something that was invented. Nobody can take credit for it. It's always been here; an esoteric force with the ability to crystalize passing moments into lasting memories, and to forge new connections for any within earshot, be it to another person, a feeling or the cosmos. Picture a young kid who's trying to figure out whistling through her own whiffs and hisses as cars whizz by on the interstate while she walks home from school, or the 72-year-old widower whose eyes well up with tears when he hears the first notes of his wedding song on the radio while he's out to dinner with his grandkids. Or imagine a hushed audience comprised of different backgrounds, ages, nationalities and beliefs standing side-by-side in a shared serenity, all facing a man on stage with a guitar as the final notes of his song ring through the air.

It is moments and experiences like these — the precious beauty that's discovered amongst the screaming chaos of everyday life — that artist Trevor Gordon Hall commits his mind, heart and fingers to. Whether it's through his compositions, collaborative live performances, musical education, or basic interactions, Trevor is on a journey to enable engrossing musical possibilities, both communal and intimate, for people all around the world.

Through his work, Trevor has established himself as a unique and pioneering voice on the international stage, albeit one who speaks through his guitar and every sound that it's capable of, rather than words. On top of a touring calendar that's taken him through 17 countries and counting, his discography has amassed millions of listens and views through streaming services such as Spotify and YouTube, allowing his music to connect meaningfully with listeners across all borders, regardless of their language or location.