Fantastic Cat w/ special guest Pat McGee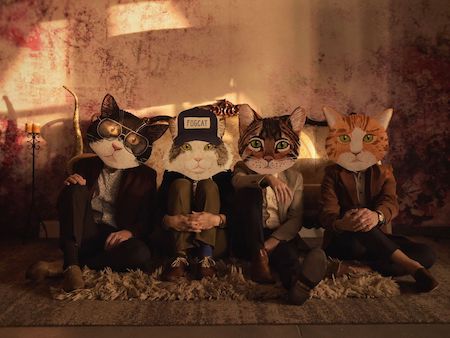 Saturday, November 26, 2022
$23 Advance | $26 Day of Show
Doors 7pm | Show 8pm
Opener: Pat McGee

They said it couldn't be done. Four different songwriters joining forces to form a single band? There was simply no precedent (outside of CSNY, The Beatles, The Traveling Wilburys, The Highwaymen, Monsters of Folk, etc). And yet Fantastic Cat did it anyway, defying the odds and teaming up to record their highly unanticipated debut, 'The Very Best Of Fantastic Cat.' Captured in the wilds of the Pocono Mountains, the album gleefully careens between genres and decades, mixing electrified 60's folk and 70's AM radio gold with 80's heartland rock and 90's alt-country. The result is a record that balances careful craftsmanship and ecstatic abandon in equal measure, a raw, intoxicating collection captured live in the moment and fueled by the chemistry of four longtime friends making music for the sheer joy of it.
Individually, each member of Fantastic Cat boasts their own impressive resume along with a litany of critical acclaim. The Guardian dubbed Don DiLego "one to watch." NPR said Anthony D'Amato "sings and writes in the tradition of Bruce Springsteen or Josh Ritter." Rolling Stone called Brian Dunne's latest single a "stunner" and praised Mike Montali's band, Hollis Brown, as "the soundtrack for a late-night drive through the American heartland." Collectively, though, the four transcend their respective roots, emerging as an instrument-swapping, harmony-trading, tear-jerking, wise-cracking rock and roll cooperative far greater than the sum of its parts.

About the Opener:
Pat McGee has a passion for getting wildly talented people together. Since the formation of the road hungry Pat McGee Band in 1995, McGee has sought out uniquely skilled musicians to compliment his songwriting. After relocating to Rhode Island from Virginia in the early 2000's Pat McGee added New England touring artist Patrick McAloon (backing vocals, guitar and mandolin) to his lineup. The two Pat's have performed together all over the world and have a natural synergy that shines bright on and off stage.

McGee's music, over the course of eight studio albums and multiple live recordings, is rooted in the singer-songwriter genre but consistently branches out to the jam band world. Pat crafts tunes that have musical familiarity but with a creative stamp all his own. With Classic Rock inspired writing, McGee continues to showcase his love of melodic guitar driven music layered with soaring vocal harmonies, organic grooves and thoughtful lyrics that are wide appealing. McGee has toured with the likes of: Allman Brothers Band, The Who, James Taylor, Fleetwood Mac, Little Feat, Counting Crows, Steve Miller and more. His self-titled release in 2015 featured famed studio musicians "The Section" (Leland Sklar, Russ Kunkel, Waddy Wachtel, Danny Kortchmar) and others from Little Feat, Blues Traveler and Train. McGee and McAloon have plans to head into the studio in 2023 and will continue to produce McGee's celebrated music festivals, Down The Hatch (NC) and Ocean State of Mind (RI), where McGee shares his love of fellow artists and local culture.