Fantastic Cat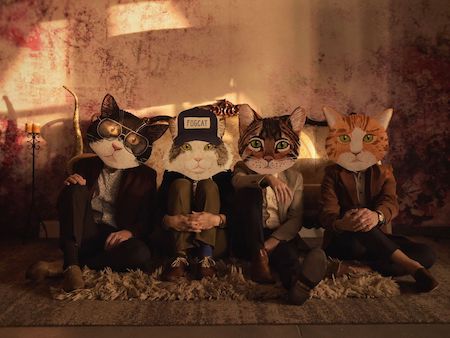 Saturday, November 18, 2023
$28 Advance | $30 Day of Show
Doors 7pm | Show 8pm
Opener: Cody Nilsen

They said it couldn't be done. Four different songwriters joining forces to form a single band? There was simply no precedent (outside of CSNY, The Beatles, The Traveling Wilburys, The Highwaymen, Monsters of Folk, etc). And yet Fantastic Cat did it anyway, defying the odds and teaming up to record their highly unanticipated debut, 'The Very Best Of Fantastic Cat.' Captured in the wilds of the Pocono Mountains, the album gleefully careens between genres and decades, mixing electrified 60's folk and 70's AM radio gold with 80's heartland rock and 90's alt-country. The result is a record that balances careful craftsmanship and ecstatic abandon in equal measure, a raw, intoxicating collection captured live in the moment and fueled by the chemistry of four longtime friends making music for the sheer joy of it.
Individually, each member of Fantastic Cat boasts their own impressive resume along with a litany of critical acclaim. The Guardian dubbed Don DiLego "one to watch." NPR said Anthony D'Amato "sings and writes in the tradition of Bruce Springsteen or Josh Ritter." Rolling Stone called Brian Dunne's latest single a "stunner" and praised Mike Montali's band, Hollis Brown, as "the soundtrack for a late-night drive through the American heartland." Collectively, though, the four transcend their respective roots, emerging as an instrument-swapping, harmony-trading, tear-jerking, wise-cracking rock and roll cooperative far greater than the sum of its parts.

About the Opener:
Songwriter, multi-instrumentalist and session musician, Cody Nilsen, is known for his work with Ward Hayden and The Outliers (formerly Girls Guns and Glory), Lenny Lashley's Gang of One and Honey Talk, among many others. Nominated for "Session Musician of the Year" at the Boston Music Awards 2021, Cody is a sought after guitar and pedal steel guitar player, both for touring and studio work. Cody has shared stages with the likes of Dropkick Murphys, Dwight Yoakam, Peter Wolf, Los Lobos, Marty Stuart, NRBQ and many more, both nationally and internationally.