Paul Bielatowicz's "Nosferatu" Live - Halloween Spooktacular!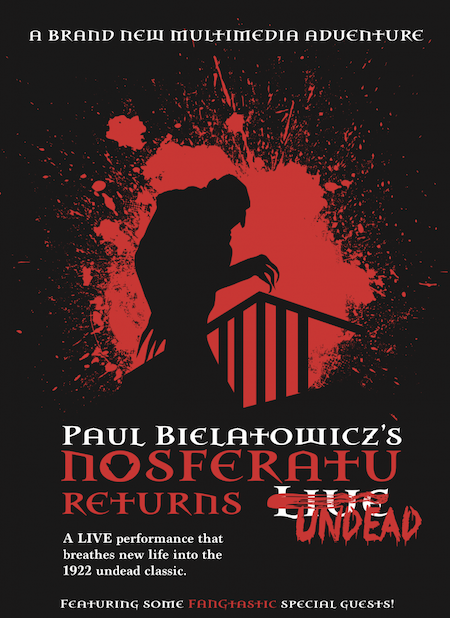 Saturday, October 28, 2023
$26 Advance | $31 Day of Show
Doors 7pm | Show 8pm
Get ready for the Halloween event of the year - The 2nd Annual Nosferatu Halloween Spooktacular!
Join us for an evening of live music, classic horror, creepy costumes and some very special guests…
After the success of last year's Nosferatu LIVE Halloween Spooktacular, we've decided to do it again…but this time the Stakes have been raised!
Paul Bielatowicz and his amazing live band featuring Michael Dutko on bass and Leah Bluestein on drums are back, and they've invited some very special guests. Two additional LED screens provide onstage guest performances from some of the biggest names in classic and progressive rock. Jordan Rudess (Dream Theater), Bumblefoot (Guns N' Roses), Arthur Brown (Crazy World of Arthur Brown) and many more music legends have come together for this unique live presentation of the original (and creepiest) vampire movie!
The 1922 silent horror movie Nosferatu has been terrifying audiences for 100 years. Join us Halloween weekend for a Spooktacular live performance of a thrilling soundtrack that breathes new life into the undead classic. The unique show features a live band performing an original immersive prog rock soundtrack for the 1922 classic silent horror Nosferatu, played in sync with the movie, plus two additional LED screens providing onstage guest performances from some of the biggest names in classic and progressive rock.

Experience "Nosferatu" like never before - the loudest silent movie you've ever seen!

For more info visit NosferatuLIVE.com