Davy Knowles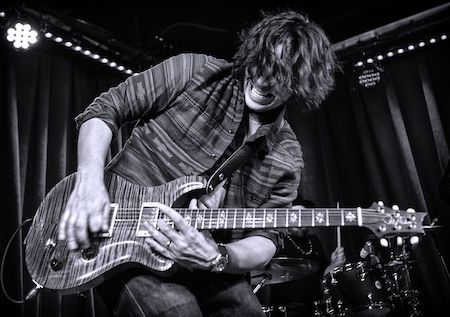 Friday, May 5, 2023
$30 Advance | $33 Day of Show
Doors 7pm | Show 8pm

On his aptly-titled Provogue Records' debut, 'What Happens Next,' roots singer-songwriter and guitarist Davy Knowles boldly steps forward with timeless and cohesive songwriting; sleek modern production; and a lyrical, play-for-the-song guitar approach informed from soul, folk, rock, and blues. The 12-song album is just as influenced by The Black Keys, Fantastic Negrito, Gary Clark Jr., as it is Muddy Waters, Junior Kimbrough, and R.L. Burnside. It is a cohesive body of work rather than a collection of disparate songs.

"When it came time to record this album, it was all about supporting the songs as opposed to 'how quickly I can get to the guitar solo'," the Isle of Man-born, Chicago-based artist says laughing. "I'm not a purist, and the way for roots music to stay relevant is to adapt and progress.

Produced by Eric Corne (John Mayall, Joe Walsh, Joe Bonamassa), 'What Happens Next' something of a departure from Knowles's fired-up and reverent take on blues and Americana, featuring poetic songwriting and soulfully emotive vocals that steal the show. The 12-song body of work offers forth a peaks-and-valleys album experience winding through brawny riffs, jazzy blues balladry, and vintage soul before concluding with one of Knowles's most personal songs released to date. Throughout it all, his guitar playing is brilliantly understated, his rhythm work is deft and dynamic. The album bursts open with, "Light Of The Moon," a swaggering riff-rocker replete with vibey 1960s organ flourishes, hooky minor-tinged refrains, and impassioned soul-drenched vocals. Here, Davy's lead breaks drip sustain, vibrato, and sublime bluesy melodicism.

Knowles first burst onto the scene at the age of 20 with his band Back Door Slam, garnering rave reviews, making national US television appearances (Jimmy Kimmel Live, Good Morning America), earning extensive triple-A radio airplay, and achieving two Top 5 Billboard Blues charting albums. Since then he has been solo, and he independently released two more studio albums, 2014's The Outsiderand 2016's Three Miles From Avalon, which also hit the Top 5 on the Billboard Blues chart. He's earned plum endorsements from D'Addario strings, PRS guitars, Bludotone amps, and Celestion speakers, became the first musician in history to play live directly to the International Space Station from Mission Control in Houston, and held his own sharing the stage with such heavyweight artists as The Who, Jeff Beck, Gov't Mule, Lynyrd Skynyrd, Kid Rock, Joe Bonamassa, Sonny Landreth, Peter Frampton, Joe Satriani, and Sammy Hagar, among many others.

Despite the songs on 'What Happens Next' featuring concise lead guitar playing, fans of Knowles's fleet-fingered lead style fear not for the blues-rock fire still burns inside him. Knowles says: "This album taught me about restraint in terms of guitar playing. I had to reign it in to let the songs breathe, but I am looking forward to reimagining them and stretching out when we play live."