Low Cut Connie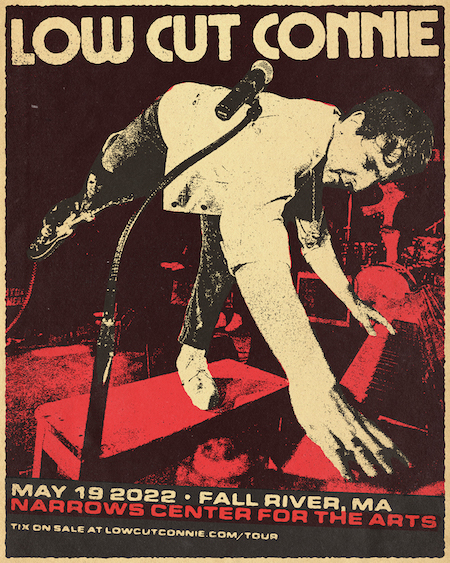 Thursday, May 19, 2022
$30 Advance | $33 Day of Show
Doors 7pm | Show 8pm
Opener: Danielle Miraglia
Since Low Cut Connie's debut record Get Out the Lotion (NPR's Fresh Air Top 10 albums of 2011), they've firmly established their reputation as one of the most eXciting live shows in the US, with Greg Kot (Sound Opinions / Chicago Tribune) eXclaiming they are "the essence of what rock n roll should be" and the New York Times stating "The group's live show is a strange phenomenon."
Adam Weiner's $100 junker piano, named Shondra, is the backbone of their boogie strain of rock n roll. Recently adding longtime Sharon Jones & the Dap-Kings member Saundra Williams, the result is what Rolling Stone describes as "a miX of Seventies Stones (but dirtier), the New York Dolls (but tighter) and Jerry Lee Lewis (but Westerberg-ier)...with an eXtra sense of bare-knuckled grit and sonic thwump."
On their 5th studio album Dirty Pictures (Part 2), released via Contender Records, the band urges all current and former youths: Feel your feelings. Feel sadness, feel love, feel wildness. Give your feelings away to others and maybe it will lift us up. It's this musical and emotional literacy that sets the band apart, with their world-weary but life-affirming attitude that inspires their cult following and notable cheerleaders such as Barack Obama, Sir Elton John, Howard Stern.
Rolling Stone recently included Dirty Pictures (Part 2) on their list of the 50 Best Albums of 2018 so far. In his four-star review, David Fricke called the record "a stand-alone triumph of missionary zeal." In a First Listen feature, NPR Music said, "Across five albums of piano-driven rock and soul, Low Cut Connie has proven masterfully fluent in the foundational languages of Western pop, living at the crossroads where the church house meets the roadhouse, or where the Dew Drop Inn meets CBGB... The blood that pumps through the Philadelphia band's work comes from a place that's fresh, original, and truly pledged to rock and roll."
With more than 120 shows per year, including stops at festivals like Bonnaroo, Bottle Rock, Rock The Garden, Pickathon, Newport Folk Festival and more, this little act from Philly continues to dig in their corner of the sandboX. Low Cut Connie light a fire at every show and with every record. Dirty Pictures (part 2) reminds all of us, all the little people, to keep our fires lit at any cost.

About the Opener:
Danielle Miraglia comes armed with a strong steady thumb on an old Gibson and an infectious stomp-box rhythm with tunes ranging from heart-felt to socially conscious that will move both your heart and hips. Her latest "Bright Shining Stars" debuted at #15 on the Billboard Blues Charts. Cascade Blues Association calls it "... tough as rawhide, but smooth as blended whiskey." Released Oct 2020 with Vizztone Label Group, it's a solo acoustic folk/blues record that highlights the one-woman-band live sound she's honed over the years, featuring guest appearances by talented friends Laurence Scudder, Peter Parcek and Richard "Rosy" Rosenblatt. It includes originals as well as a collection of songs she's been covering at live shows over the years, paying homage to influences like Big Bill Broonzy, Bob Dylan, Janis Joplin and more, plus the title track "Bright Shining Stars," written by her husband, Tom Bianchi.