*SOLD OUT* Nick Lowe's Quality Rock & Roll Revue Starring Los Straitjackets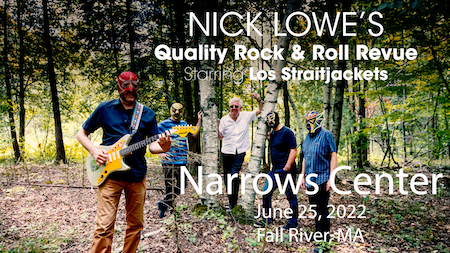 Saturday, June 25, 2022
$53 Advance | $58 Day of Show
Doors 7pm | Show 8pm
Opener: Jimmy Ryan


Nick Lowe has made his mark as a producer (Elvis Costello-Graham Parker-Pretenders-The Damned), songwriter of at least three songs you know by heart, short-lived career as a pop star, and a lengthy term as a musicians' musician. But in his current 'second act' as a silver-haired, tender-hearted but sharp-tongued singer-songwriter, he has no equal.

Starting with 1995′s 'The Impossible Bird' through to 2011′s 'The Old Magic,' Nick has turned out a fantastic string of albums, each one devised in his West London home, and recorded with a core of musicians who possess the same veteran savvy. Lowe brings wit and understated excellence to every performance, leading Ben Ratliff of the New York Times to describe his live show as "elegant and nearly devastating."

His new 4 song EP "Tokyo Bay" features Los Straitjackets as his backing band

Los Straitjackets are the leading practitioners of the lost art of the guitar instrumental. Using the music of the Ventures, The Shadows, and with Link Wray and Dick Dale as a jumping off point, the band has taken their unique, high energy brand of original rock & roll around the world. Clad in their trademark Lucha Libre Mexican wrestling masks, the "Jackets" have delivered their trademark guitar licks to 16 albums, thousands of concerts and dozens of films and TV shows.
Their most recent album "What's So Funny 'Bout Peace Love & Los Straitjackets" consists of instrumental covers of Nick Lowe Songs
About the opener:
For those who like their pigeonholes neat and tidy, Jimmy Ryan is an unsettling proposition. He plays mandolin with the old-timey pluck of a bluegrass breakdown, but he also plays it with the ferocity of rock guitarist. What else would you expect of a left-handed rebel who began his career by playing both in a bluegrass combo (Pine Island) and a punk band (Decentz)?

That melding of styles made Ryan a pioneer of the so-called "alt-country" scene in the late '80s when he founded and fronted the bluegrass-tinged rock band The Blood Oranges. And the same eclectic approach makes him one of the most dynamic singer-songwriters on the rich Boston Americana scene today.