Greg Murphy Trio with Paul Beaudry and George Coleman Jr.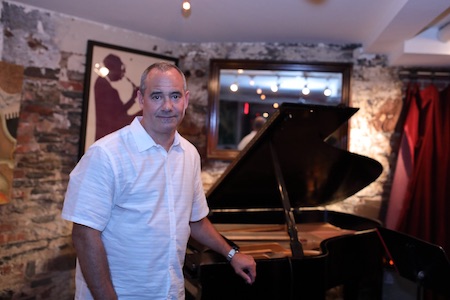 Saturday, February 19, 2022
$28 Advance | $31 Day of Show
Doors 7pm | Show 8pm

Click here for current entry protocols.
Greg Murphy is a dynamic, lyrical pianist on his latest release Cool Water, his third on Whaling City Sound and sixth as a leader. It really "swings." and showcases, yet again, his chops as a composer and arranger. Of the twelve tunes, seven are original and each song is inspired by real life experiences and the special people in his life.
Not one to be musically pigeon-holed, he says, "I'm a musician but I do primarily identify as a jazz musician." Along with the originals, Murphy has chosen an array of jazz standards and pop classics. He came of age during the 1970s when he was exposed to a variety of music that shaped him. "While I was in high-school I started listening to Chick Corea's Return to Forever, Weather Report and Herbie Hancock's Headhunters. Through them I got into Coltrane, McCoy Tyner and started working backwards towards Miles Davis, Charlie Parker and Thelonious Monk. They were my musical heroes in my formative years." For twenty years Murphy was fortunate to work with Rashied Ali, giving him a direct connection to John Coltrane. Throughout Cool Water, Coltrane's influence as well as McCoy Tyner's style is heard in his compositions and playing.