WinterStock 2024-A Benefit for Samaritans Southcoast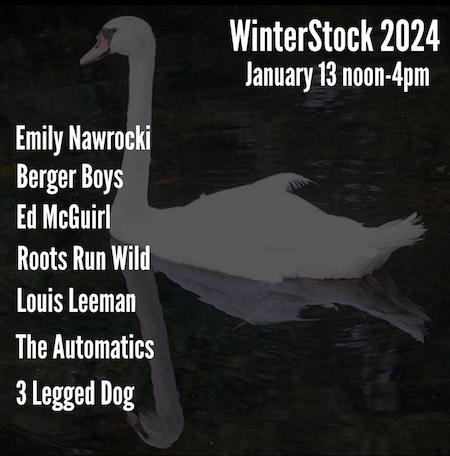 Saturday, January 13, 2024
Doors 11:30am | Show 12pm

This is a free event with all donations benefitting Samaritans Southcoast.

Four summers ago, a group of local musicians began gathering in a back yard on the 3 Mile River in North Dighton, Ma. We lovingly named our festival "RiverStock". We were in the middle of a lockdown, many music venues either closed or open with limited capacity. It became apparent that our little festival had outgrown our original home, and in the summer of 2021, we moved to a much larger space at the Swansea YMCA. We play music, pass the hat, and donate money to a variety of worthy causes. Two years ago we brought our festival to the Narrows, and called it WinterStock. We set out to raise money and awareness for suicide prevention through Samaritans Southcoast.

Now, here we are back again for WinterStock 2024 ! This year's lineup is full of some of SE Massachusetts, and Rhode Island's finest acts, including Emily Nawrocki, Louis Leeman, Roots Run Wild, Ed McGuirl, The Berger Boys, The Automatics, and our hosts, 3 Legged Dog, with some special guests.

Samaritans Southcoast suicide prevention hotline is open to all callers 7 days per week, now featuring the "988" hotline, free to anyone who needs support. Our volunteers are caring, compassionate and trained listeners. Samaritans host a "safe place", a self help support group for families, and friends of those who have completed suicide. We provide outreach education about suicide prevention to school groups and organizations.