Funky White Honkies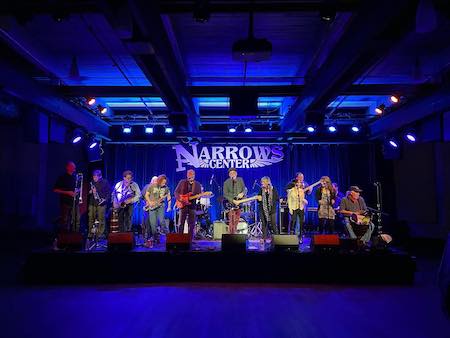 Saturday, January 6, 2024
$33 Advance | $38 Day of Show
Doors 7pm | Show 8pm

For over 40 years, the Funky White Honkies have been the areas top party band. They invade the Narrows for big dance party. The tables and chairs will be removed for a large dance floor and a good time will be had by all.
Led by the fearlessly un-selfconscious and immensely talented Dinty Child, (perhaps best-known for being a member of Boston roots/rock masters Session Americana), the Funky White Honkies are a rag tag band of fine New England music veterans. More of a 'tribe' than a band, the Honkies have been around for years, providing a gorgeously joyous and free dance experience for people of every age, leanings, stripe, and style. With it's large, rotating band of expert players, and under the spontaneous direction of Dinty, the Honkies converge for one purpose only: to get down and get dirty, laying down a set of grooves that start loose, and build inexorably to nothing less than pure, transcendent jazz/funk/punk fueled cacaphony. On a typical Honkies night (or afternoon; they dig those beach party gigs) Horn players roam about New Orleans style, the washboard player grins under his dusty fedora, the TWO drummers maniacally layer the beats, Dinty wails on an accordion a-top a wobbly amp, polkas start and stop inside disc grooves and the back-up singers bang on tamborines and fall over laughing ... all to make you do one thing: free the primal urge to move. As the great funk God George Clinton once said, 'Free your ass, and your mind will follow.' Never has dancing felt so natural, so subversive, and so damn good.