Ward Hayden and the Outliers do Hank and Ward - Double Record Release Party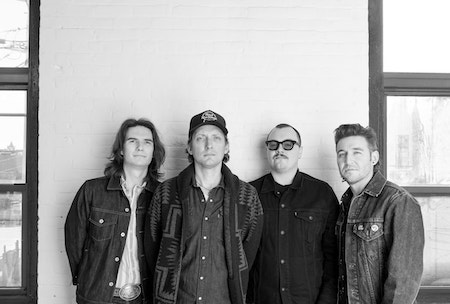 Friday, September 29, 2023
$30 Advance | $32 Day of Show
Doors 7pm | Show 8pm

Ward Hayden and the Outliers will be celebrating the release of their new original album "South Shore" and the release of their new Live Tribute to Hank Williams Vol 2. Two great records and one fabulous night of music.

Boston is one of America's great music towns. But among the various styles the city is known for that have launched many musical acts to success and stardom, country music wasn't a truly thriving genre there, that's until singer, songwriter and guitarist Ward Hayden and his band The Outliers (formerly known as Girls Guns & Glory) sang and played their distinctive take on C&W with a rock'n'roll kick to the top of the Boston scene and a thriving, critically-acclaimed and highly-awarded career across America and in Europe.
Now, with their ninth LP, South Shore, Ward Hayden & The Outliers bring their "amber-soaked melodies, tight musicianship, and casual elegance" (Boston Globe) all back home, literally and spiritually. Ward notes that the release is "the closest thing I've ever done to a concept album. I wanted to just recount my experience of growing up in a small town and what it meant and what it took to get out and leave that behind to try and pursue something, chase after
something that was and is a dream. I used to joke that my greatest achievement was I got out of here because it was no easy feat. My family had moved 12 times by the time I was 12 years
old, so once there was a place I could really call home and I'd developed friends and connections, it was tough to leave that behind. But, Scituate, Massachusetts isn't Las Vegas, if you want to get your music to a wider audience you have to get out in the world and bring it to them."
Over the course of eight previous albums and playing some 200 shows a year for most of the last two decades, his band became leading lights for contemporary country that integrates the
music's finest traditions into a sound Cincinnati City Beat hails as "incredibly endearing." They've won seven Boston Music Awards (including Act of the Year), the French Country
Music Awards crowned them the Independent Artist of the Year, plus an Americana Music Awards nomination for Artist of the Year. As well, they are a regular presence on the Americana chart and SiriusXM's Outlaw Country channel.
South Shore, released on the band's own Faster Horses Recordings, is an album rich with reflections, lessons learned, and ruminations sparked by Ward's return in 2019 from living in the greater Boston area back to his small coastal hometown of Scituate, some 30 miles
southeast of the city, where he grew up. Plus, he and his wife welcomed their first child, a daughter now two years of age. It's also a return to working with producer Rob Loyot, who recorded Ward's first three albums, and who Hayden feels "might be my musical soulmate."
"There's that old adage that you can never really go back home," Hayden observes, "because whatever that nostalgia you have of that time back in the day, it just doesn't exist anymore. Life
moves forward and life moves on. But I did want to go back and experience and see what was still there and if I had place in it. I left home in search of finding my place in the world and at this point in time that search led me back to where a lot of things for me started. It led me back home to the South Shore."