Anthony Geraci Band and Erin Harpe Country Blues Duo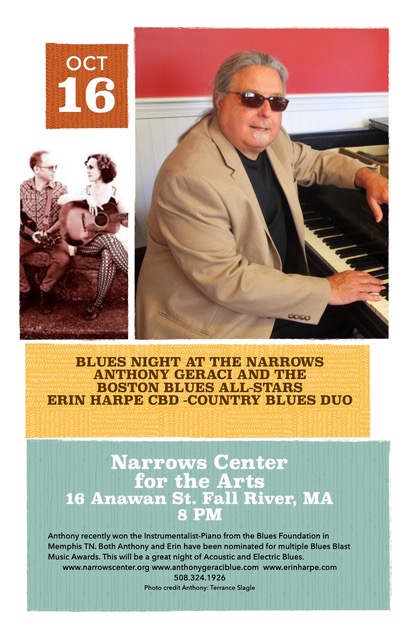 Saturday, October 16, 2021
$23 Advance | $26 Day of Show
Doors 7pm | Show
8pm

Click here for current COVID-19 Protocols.
Anthony Geraci
Pianist, H
ammond organist and composer Anthony Geraci was born in New Haven, Conn. in 1954. His interest in playing piano began at age four when he told his parents "I want a piano!" Kind of an odd request when most kids want a new baseball glove or bicycle.
His parents weren't musical-not even a record player at their house- but they always supported their son's undeniable passion for music. They soon bought a Kimball Grand Piano
that his mother paid 4 dollars a week to own. Lessons at the Neighborhood School of Music which was affiliated with Yale University soon followed. At around the age of sixteen he befriended a fellow musician, Ed Cherry at high school.
T
hey soon began listening to music together after school and one day Ed played a Jimmy Rogers recording, Chicago Bound that literally changed his life. Ed went on to be Dizzy Gillespie's guitarist for many years.

New Haven was rich as far as listening to and seeing major music artists, and NYC was only a few hours away by train. Seeing Muddy Waters, B.B. King, and Willie Dixon was part of his blues education that could only be learned by seeing these great artists fist hand. Years later Anthony had the opportunity to play piano with Muddy Waters, B.B. King, Otis Rush, Chuck Berry, Big Mama Thornton, Big Joe Turner, Jimmy Rodgers and many more-something a sixteen year old budding blues pianist would never have seemed possible. Anthony has recorded with Big Walter Horton, Ronnie Earl, Big Jack Johnson, Zora Young, Sugaray Rayford, Debbie Davies, Kenny Neal and many more great Blues Artists. Anthony graduated from the Berklee College of Music with B.A. Degree, and a M.A. from Skidmore College. He continues to perform worldwide with Anthony Geraci and the Boston Blues All-Stars, and with the Proven Ones that features Kid Ramos, Willie J. Campbell, Jimi Bott and Brian Templeton.

His 2015 release, Fifty Shades of Blue, on Delta Groove Records has been met with acclaimed reviews and earned multiple Blues Music Award nominations from the Blues Foundation in Memphis, TN. Nominations include: Best Song-for the title track, Best Album, and Best Traditional Blues Album. Anthony also received an individual nomination for the Pinetop Perkins Piano Player of the Year Award. Fifty Shades Of Blue was also nominated for Traditional Blues Album of the year by Blues Blast Magazine, and was ranked as one of the top 50 Blues recordings of 2015 by Living Blues Magazine, and earned a 4 Star Review in Downbeat Magazine.

In 2019 Why Did You Have To Go (Shining Stone) received nominations by the Blues Foundation Blues Music Awards for Album of the Year, Traditional Album of the Year, Song of the Year-"Angelina, Angelina", as well as individual nominations: Pinetop Perkins Piano Award, Traditional Male Blues Artist and Band of the Year.

2021-Anthony wins the Instrumentalist-Piano from the Blues Foundation/Blues Music Awards Memphis, TN. Anthony Geraci and The Boston Blues All-Stars are nominated for Band of the Year.

New recording Daydreams In Blue (Shining Stone) debuts at #1 on The Living Blues Radio chart-#1 Roots Music Report-Blues.

Erin Harpe
A rising star in the roots and blues scene with a growing fan base around the world, guitarist/singer/songwriter Erin Harpe has been compared to legendary blues women like Bonnie Raitt and Rory Block. Living Blues Magazine called her "one of the most dynamic, talented and exciting roots rocking blues women on the scene", and the Midwest Record dubbed her "Bonnie Raitt on modern performance enhancing drugs!" Recently named New England's "Blues Artist of the Year," Erin has garnered critical acclaim with her award-winning electric blues band Erin Harpe & the Delta Swingers for a decade, gaining a considerable fan base with their memorable high-energy performances and irresistible mix of genres they call "Boogie, Blues & Beyond."

Erin gets back to her roots in the acoustic blues for her new Country Blues Duo (a.k.a. "CBD") with longtime partner/bassist Jim Countryman. Appropriately nicknamed "shit-kicking blues" on a recent UK tour, they create a very full, danceable and engaging sound with their down-home duo, which features Erin on acoustic guitar, vocals, kazoo & foot percussion, and Jim on ukulele bass and backing vocals. Their energetic performances transport the audience to the Delta, with vintage classics by the likes of Memphis Minnie, Mississippi John Hurt, Tommy Johnson and Blind Blake – elevated by Erin's own interpretations – and mixed in seamlessly with original compositions and country blues takes on popular songs. Erin Harpe CBD is a must-see roots act that will get any crowd moving – now accepting bookings for Spring 2021!

The duo's latest release, MEET ME IN THE MIDDLE (2020 VizzTone) was recorded in the couple's home studio while in quarantine during the pandemic. The new album has gotten rave reviews, declared "today's country blues at its very best" by Frank Matheis in Living Blues Magazine, and getting a 3 out of 4 star review in MOJO. The album entered the charts at #13 on Billboard's Blues Chart, and climbed to #5 on Relix/Jambands.com Radio Chart, #7 on iTunes Top US Blues Albums, #9 on North American College & Community Radio's Top 30 Blues Chart, #8 (Top 50 Contemporary Blues Albums) & #15 (Top Blues Albums) on Roots Music Report's Charts, and #17 on Living Blues Radio's Chart, also making several 2020 top 10 lists!
"Erin Harpe has a timeless quality about her. Maybe it is her signature look with a flower in her hair and the fishnet stockings, a look that would have worked in any decade over the past century. Or maybe it is her virtuoso finger picking guitar style or the way she can play the slide guitar like some of the recent greats such as Bonnie Raitt or Rory Block. Or maybe it is her beautiful singing voice, especially when she is covering the old-time blues music of Memphis Minnie or Sippie Wallace with a confidence and sass that might remind you of Maria Muldaur. Her style is both endearing and enduring."