Carolyn Wonderland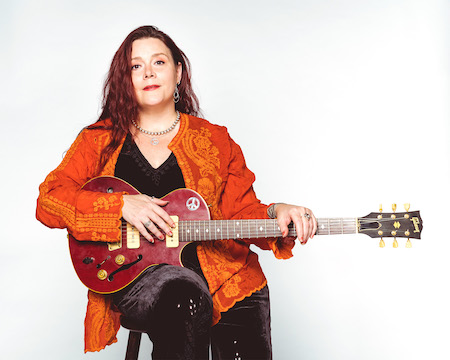 Thursday, November 18, 2021
$28 Advance | $31 Day of Show
Doors 7pm | Show 8pm
Opener: Veronica Lewis



Click here for current COVID-19 Protocols.



"The more guitar you play, the more you sing, the better you get," says award-winning Texas guitar slinger, singer, songwriter, and multi- instrumentalist Carolyn Wonderland. Since performing her first professional gig at age 15, she's never stopped singing and making music. Her music includes a bold mix of timeless original songs and reinventions of some of her favorites, ranging from blistering electric blues to deep, heartfelt ballads to cosmic country to soulful Tex-Mex. Every song is fueled by Wonderland's forceful yet melodic Texas- flavored guitar work and her full-throated, heart-on-her-sleeve vocals. She's recorded ten previous albums under her own name, including four produced by famed musician Ray Benson, founder of multiple Grammy-winning band Asleep At The Wheel. Wonderland, who spent the last three years as lead guitarist in John Mayall's Blues Breakers, now joins the Alligator Records family as the first female guitar hero in the label's storied 50-year history. Her spine-chilling, soul-deep singing matches her guitar prowess note for note. And she has a knack for writing songs that sound like instant classics. Her Alligator Records debut, the Dave Alvin-produced Tempting Fate, is the next chapter in Wonderland's remarkable story, one that is already overflowing with countless and colorful once-in-a-lifetime experiences.

On Tempting Fate, Wonderland delivers ten riveting songs, including five fiery originals (and one co-write with her Mayall bandmate Greg Rzab). On every song—from the searing, guitar-heavy Broken Hearted Blues to the tender and poignant Crack In The Wall to the very Texan love song for her boot collection, Texas Girl And Her Boots, to the politically-charged Fragile Peace And Certain War to the take-no- prisoners version of the Grateful Dead's Loser—Wonderland throws herself completely into the music. Her shining duet with Jimmie Dale Gilmore on Bob Dylan's It Takes A Lot To Laugh, It Takes A Train To Cry redefines the song. Her explosive guitar work and commanding vocals on John Mayall's The Laws Must Change makes his song hers.

About the opener:

Veronica Lewis, a prolific songwriter with Blues progressions as a launching point, writes original songs with stories that are both thought-provoking and humorous. Her inspiration comes from a mix of musical genres and eras, ranging from Katie Webster, Otis Spann, and Dr. John all the way to Freddie Mercury and Avril Lavigne. Veronica fuses these crucial elements together with the true language of the Blues, and the energy of the early rock and rollers, like Little Richard and Jerry Lee Lewis to create a truly individual style that is completely Veronica Lewis.