The FIXX & The English Beat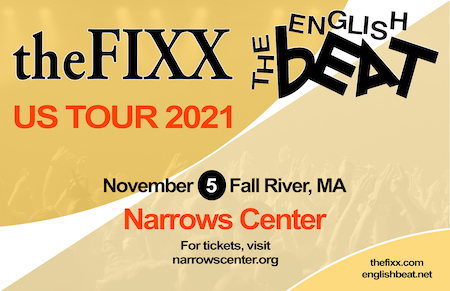 Friday, November 5, 2021
$65 Advance | $68 Day of Show
Doors 7pm | Show 8pm
THE FIXX
Formed in London in 1979, The FIXX are a British rock band whose hits include "One Thing Leads to Another," "Saved by Zero," "Are We Ourselves?" and "Secret Separation" (all of which made the U.S. Top 20), as well as early MTV video hits "Red Skies" and "Stand or Fall." The band, which still features the classic line up of Cy Curnin, Adam Woods, Rupert Greenall, Jamie West-Oram and Dan K. Brown, are heralded as one of the most innovative bands to come out of the MTV era. In concert, The FIXX deliver that same sonic authenticity fans have come to expect from their recorded performances. The FIXX are the real deal.
THE ENGLISH BEAT
Founded in 1979 by Dave Wakeling, The English Beat is a band with an energetic mix of musical styles and a sound like no other. Their infectious sound, which crosses fluidly between ska, soul, reggae, punk and rock, has allowed them to endure for four decades and appeal to fans of all ages all over the world.
Throughout their career, The English Beat has scored multi-platinum record sales, sold out shows and, most importantly, universal fan approval because they kept "The Beat" alive.
The English Beat is still lead by Wakeling with an amazing all-star ska backing band that will play all their signature tunes, such as "Mirror in the Bathroom," "Save It For Later," "Can't Get Used to Losing You," "Hands Off, She's Mine," and "I Confess," as well as some covers and songs from their 2016 album "Here We Go Love," the band's first new release since 1982's "Special Beat Service."