Dar Williams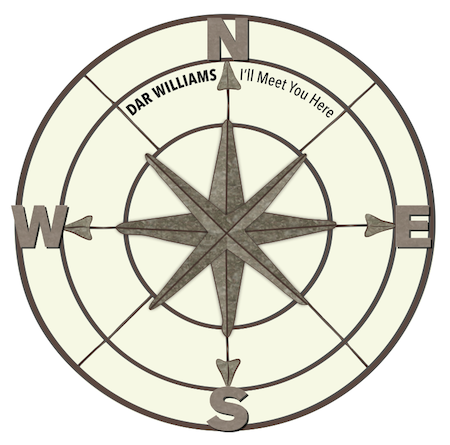 Thursday, September 30, 2021
$35 Advance | $38 Day of show
Doors 7pm | Show 8pm
Opener: Crys Matthews

When Dar Williams starts discussing her latest album, I'll Meet You Here, she's not yet sure she can identify its through line; a thread that might connect its 10 songs together. But as she delves into the collection, releasing Oct. 1 on BMG's recently launched Renew label, she mentions her attempt to turn her yard into a meadow. Unfortunately, the wildflower seeds she scattered on the grass around her home, in New York's Hudson Valley, didn't take. Now she just has an unruly lawn.

"It kind of has a crazy-lady look," Williams says, laughing. "I'm on a corner in a village, so everybody sees it. I do all this remedial stuff; it's not really working. But I know why I did it, and I know what I was going for. Generally, people are saying 'I see what you're trying to do.' And I'm sure some people are shaking their heads. And I'm OK either way."

"At some point," she adds, "you have to meet life where it meets you … I think what the songs all have in common is the willingness to meet life as it arrives."

We might even simplify it as "acceptance," that concept Buddhists and behavioral therapists try so hard to teach. But that's far from passivity; on the contrary (and unlike her lawn), Williams' lyrics contain bouquets of optimism, delivered on melodies alternating between beguiling lightness and understated gravity.

In "Today and Every Day," for example, she sings, There's no time for this smug frustration, I say everyone, EVERYONE'S a power station. And we'll light the way, but we got to say we can save the world a little every day.

But she also writes from the viewpoint of a woman who has weathered plenty of storms (as vividly described in "Let the Wind Blow"), and is no longer willing to delude herself into believing someone else's definition of love (as noted in "I Never Knew").

Comparing "Magical Thinking," one of several relationship songs, with "Time Be My Friend," from which the album takes its title, Williams remarks, "There's a piece of your brain that you have to calm in order to meet time, and to not sit there saying, 'If I keep on following these rituals, maybe I'll influence what's going to happen.' It's like, 'Why not just be OK with what's happening now?'

"I've been very interested in how to control my future," she adds, "and this album has to do with the fact that at some point, you just can't."

Like everyone else, Williams spent 2020 in that state of non-control. She and longtime producer Stewart Lerman tracked most of the album, her 12th studio recording, in November of 2019. In late February of 2020, she cut the title tune in Woodstock with bassist Gail Ann Dorsey and Larry Campbell, who produced the track and played guitars, pedal steel and twangy baritone guitar. When told they had to postpone a mid-March mixing date, Campbell said he wasn't feeling well anyway. Turns out he'd contracted a serious case of COVID-19. By the time he recovered, they knew a 2020 release was not in the cards — tarot or otherwise.

Williams instead worked on her latest book, Writing a Song That Matters, titled after the songwriting retreats she began conducting in 2013. Williams published two young-adult novels with Scholastic in the mid-2000s, along with a green blog for Huffpost, before she tackled her urban-planning study, published in 2017: What I Found in a Thousand Towns: A Traveling Musician's Guide to Rebuilding America's Communities — One Coffee Shop, Dog Run & Open-Mike Night at a Time.

About the opener, Crys Matthews:

DC's Crys Matthews is nothing if not ambitious. In August, she simultaneously released both a new full-length album, The Imagineers and an EP, Battle Hymn For An Army Of Lovers. These collections showcase two sides of Matthews' dynamic songwriting; The Imagineers is a selection of thoughtful songs about love and life while Battle Hymn For An Army Of Lovers tackles social justice themes. Songs from both projects have already won her recognition and awards. She was one of ten finalists (from a pool of 5,000) in this year's NewSong Music Competition and, after performing at Lincoln Center on November 30th she was named grand-prize winner. Matthews also won the People Music Network's Social Just Songs contest at the Northeast Regional Folk Alliance.

Matthews blends Americana, folk, jazz, blues, bluegrass and funk into a bold, complex performance steeped in traditional melodies and punctuated by honest, original lyrics. Having been compared to everyone from Toshi Reagon to Tracy Chapman to Ruthie Foster, Matthews' eclectic infusion of genres has won her honorable mentions at the 2013 and 2014 Mid-Atlantic Song Contest and extensive radio play from Woman of Substance radio to WTJU-Charlottesville and WMRA-Harrisonburg to KBOO-Portland. Matthews has shared stages with Melissa Ferrick, Chris Pureka and Liz Longley, as well as several regional artists such as Owen Danoff, Eliot Bronson, and Heather Mae.

Equally at home in an acoustic listening room as she is on stage at large music festivals, Matthews has quickly gathered a loyal following on the east coast playing such prestigious venues as The Birchmere, The Hamilton, and Jammin' Java. Matthews' festival and showcase roster has included BMI's Island Hopper Songwriter Festival, the 40th Michigan Womyn's Music Festival, Folk Alliance International, 30A Songwriters Festival, Northeast Regional Folk Alliance and many more.

A prolific lyricist and composer, Matthews has found inspiration in her surroundings; from driving through the Blue Ridge Mountains to the compelling and heart-breaking love story of Richard and Mildred Loving. Thoughtful, realistic and emotional, Matthews' songs speak to the voice of our generation and remind us why music indeed soothes the soul.