The Garcia Project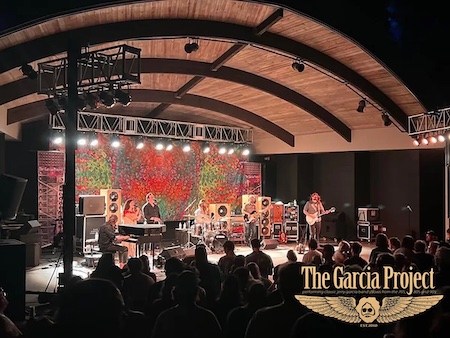 Saturday, July 29 , 2023
$33 Advance | $35 Day of Show
Doors 7pm | Show 8pm

The Garcia Project is the nationally touring, critically acclaimed tribute to The Jerry Garcia Band. The Garcia Project performs full, classic set lists from 1976 - 1995. Using replication instruments, speakers, amps and sound stylings, The Garcia Project's performances are recreations of full, classic Jerry Garcia Band set lists. More than just a cover band, the band uses thoughtful arrangements and the proper instrumentation and feel to faithfully channel and project the feelings, emotions and music that propelled the Jerry Garcia Band and their fans through the years. For anyone that never had a chance to experience the Jerry Garcia Band or for fans that want to relive a classic show, The Garcia Project delivers. It's about family, soul searching, rejoicing, contemplating, celebrating, seeking truth and loving one another.
"I spent a lot of nights in a lot of places with the Jerry Garcia Band, and I'm here to say that I really enjoy what The Garcia Project does with those memories. Mik's guitar and his and Kat's vocals stir up some very sweet vibes…some times they almost make me feel like I'm back in, say, 1992 at the Warfield. Check 'em out." — Dennis McNally, former publicist for the Jerry Garcia Band
"For those of us who crave late 70's (and through the 80's and 90's) Jerry Garcia Band, The Garcia Project scratches that itch for hearing live renditions of JGB shows from that period."
— Bob Minkin, legendary Grateful Dead and Jerry Band rock photographer
"The Garcia Project was on point with the whole experience and it didn't seem like a cover band more like a mirrored band…they are just as real as the Jerry Garcia Band. " – Buffalo FM Review
"The Garcia Project's attention to detail on intonation and performance structure does set them apart as an authority on Jerry Garcia." – NYSMUSIC
"If you close your eyes, you'll swear you are at a Jerry Garcia Band show." – ecoLocal Magazine
"it was hard to tell that it wasn't Jerry signing on "The Night They Drove Old Dixie Down."" – NYSMUSIC
"In order for a tribute band to be successful, fans need to look at them as the authority on the artist they are emulating. The Garcia Project pulls it off effortlessly. Go see them live …The Garcia Project is the whole package." – Upstate Live