Bill Frisell and Tony Scherr Duo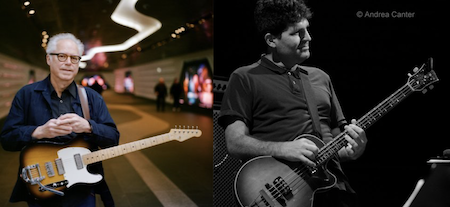 Thursday, October 21, 2021
$38 Advance | $41 Day of Show
Doors 7pm | Show 8pm

Click here for current COVID-19 Protocols.
Bill Frisell's career as a guitarist and composer has spanned more than 40 years and many celebrated recordings, whose catalog has been cited by Downbeat as "the best recorded output of the decade".

"Frisell has had a lot of practice putting high concept into a humble package. Long hailed as one of the most distinctive and original improvising guitarists of our time, he has also earned a reputation for teasing out thematic connections with his music... There's a reason that Jazz at Lincoln Center had him program a series called Roots of Americana." - New York Times

New York-based jazz musician Tony Scherr plays acoustic and electric bass and guitar in a variety of (often downtown) line-ups. He played with Woody Herman while a teenager, and later performed in Russ Gershon's Either/Orchestra and John Lurie's Lounge Lizards. Scherr has toured the U.S., Japan and Europe, and now has a recording studio based out of his home. He has worked frequently with reedist Michael Blake, in the Lounge Lizards, on Blake's Kingdom of Champa and in the groove quartet, Slow Poke, whose debut CD Scherr also engineered. Other artists Tony Scherr has worked with include Bill Frisell, Sophie B. Hawkins and Maria Schneider.