GA-20 and JD Simo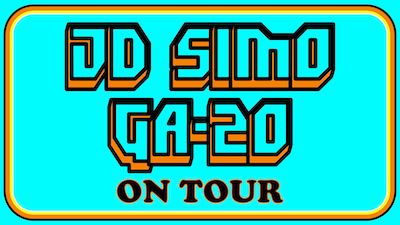 Saturday October 2, 2021
$23 Advance | $25 Day of Show
Doors 7pm | Show 8pm

GA-20 was formed by friends Pat Faherty and Matthew Stubbs in Boston, MA in 2018. The project was born out of their mutual love of heavy traditional Blues, R&B, and Rock & Roll of the late 50s and early 60s. Faherty and Stubbs bonded over legendary artists like Lazy Lester, J.B. Lenoir, Earl Hooker, Buddy Guy, Otis Rush and Junior Wells. Feeling a void in current music, the duo have set out to write, record and perform a modern version of this beloved art form. Joined by drummer Tim Carman in 2019, GA-20 is a trio of 2 guitars, vocals and drums. Raw, passionate and honest performance, both on stage and in the studio, is the only goal. GA-20 released their debut album "Lonely Soul" Oct 18th2019 on Karma Chief /Colemine Records. The album debuted at #2 on the Billboard blues charts. Stubbs has spent the past 11 years as guitarist for Blues legend Charlie Musselwhite. During that time he has also backed up and toured with such Blues giants as John Hammond, James Cotton, Junior Watson and James Harman. Stubbs also leads his own original instrumental psych-rock band, ''The Antiguas''.



JD Simo... The Chicago-born Nashvillian is like a one-man crusade dedicated to keeping music real, raw, and honest. No matter the setting and no matter his role (whether it's wingman or bandleader)
J.D.'s presence infuses the situation of the moment with the music that's been fueling him pretty much his whole life, spiced with influences that straddle both decades and dimensions. As a songwriter, guitarist, and producer he has worked with the likes of Jack White, Tommy Emmanuel, Luther Dickinson, Dave Cobb, Blackberry Smoke, and even been a member of Grateful Dead founder Phil Lesh' "Phil &Friends".
During lockdown in '20, he started cutting tracks in his makeshift studio on a weekly basis. Joined by longtime collaborator Adam Abrashoff on drums and the addition of longtime friend, bassist-producer-engineer Adam Bednarik (Justin Townes Earle), they mused a proverbial soup of shared influences. Hill country trance blues of Junior Kimbrough, RL Burnside and Asie Payton. Hypnotic Afro Beat of Fela Kuti and Tony Allen. Psychedelic warps of Captain Beefheart, Funkadelic, and Jimi Hendrix. The old school blues of John Lee Hooker, Earl Hooker and Lightnin Hopkins. As well as the raw fuzzy rock of The Stooges and Nirvana.
Mind Control is the product of 3 like minded buddies huddled in a humble setting, making music to make them feel good. The songs stark revealing nature, is the product of them using the creative process for therapy and enjoyment in a messed up time. A positive theme of growth, self help and
struggles with addiction and mental health lay along side a haunting, low down musical landscape. It's raw, funky and real. Such is life.