Tim Reynolds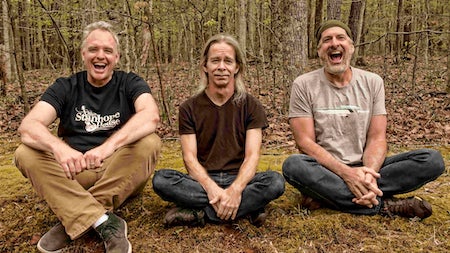 $25 Advance | $28 Day of Show
Doors 7pm | Chicago Farmer opens the show at 8pm!
**This performance has been cancelled. Orders paid by credit card will be automatically refunded. For those who paid with cash, please contact the box office at 508-324-1926.**

With a musical career spanning more than thirty-five years, guitarist and sonic innovator Tim Reynolds is known for his masterful command of melody and timing and for his uncanny ability to improvise on any instrument he touches. Having explored most musical styles, from rock, jazz and blues to classical and reggae, Reynolds' wide-ranging musical versatility is evident each time he picks up his acoustic or electric guitar. Technically brilliant, yet emotionally honest, Reynolds' music is inspired and authentic.

Tim Reynolds was born 15 December 1957 in Wiesbaden, Germany, to devoutly religious military parents. He had a peripatetic childhood, moving from Alaska and through much of the Bible-belt Midwest, eventually settling in St. Louis, MO. His musical introduction began at age eight with piano lessons, but he quickly progressed to playing the acoustic guitar and electric bass guitar in the local church gospel band during his teens. During this time he was also secretly experimenting and riffing with forbidden rock, funk and soul. Upon graduating from high school, Reynolds left the constraints of his conservative upbringing and eventually moved to Charlottesville, VA, where he explored his musical craft even further, adding psychedelic and progressive rock to his burgeoning repertoire of music.

It was in the mid 1980s that Reynolds founded his breakthrough electric power trio, TR3 (Tim Reynolds Trio), known for their fusion of funk, rock, and jazz. He toured with TR3 during the 1980s and 1990s, using a rotating cast of musicians. It was at this time he met and befriended Dave Matthews and their ongoing musical collaboration began. He eventually decided to disbanded TR3, relocate to Santa Fe, NM, and pursue his solo acoustic career. During the 1990s and 2000s, his musical progression continued throughout his many years on the road as a solo guitar wizard playing for packed houses and to crowds who quickly determined that he is one of the most talented and thoughtful musicians on the circuit today.

After a number of years in New Mexico, Reynolds relocated to the Outer Banks of North Carolina in 2007. After a chance meeting with two talented musicians, bass player Mick Vaughn and drummer Dan Martier, a few rehearsals later, and several stealth appearances throughout North Carolina, Reynolds decided to resurrect the electric TR3. TR3 has been touring ever since, and in 2009 they released their first studio CD "Radiance." A live TR3 CD is scheduled for release in 2011. He continues to surprise and delight his fans with rare acoustic performances throughout the country.

Reynolds discography is more than prolific. He continues to release a large number of acoustic and electric CDs, from the widely-acclaimed "Stream" to his recently-released acoustic "The Limbic System" and collaborates frequently with other musicians on a number of side projects.

Reynolds is currently lead guitarist for the Dave Matthews Band and performs as one-half of the acoustic Dave Matthews-Tim Reynolds duo. He has performed on nearly all of DMB's CDs.




About the opener, Chicago Farmer:

The son of a small-town farming community, Cody Diekhoff logged plenty of highway and stage time under the name Chicago Farmer before settling in the city in 2003. Profoundly inspired by fellow Midwesterner John Prine, he's a working-class folk musician to his core. His small-town roots, tilled with city streets mentality, are turning heads North and South of I-80.

"I love the energy, music, and creativity of Chicago, but at the same time, the roots and hard work of my small town," he shares. Growing up in Delavan, Illinois, with a population less than 2,000, Diekhoff's grandparents were farmers, and their values have always provided the baseline of his songs.

He writes music for "the kind of people that come to my shows. Whether in Chicago or Delavan, everyone has a story, and everyone puts in a long day and works hard the same way," he says. "My generation may have been labeled as slackers, but I don't know anyone who doesn't work hard – many people I know put in 50-60 hours a week and 12-hour days. That's what keeps me playing. I don't like anyone to be left out; my music is for everyone in big and very small towns."

He listened to punk rock and grunge as a kid before discovering a friend's dad playing Hank Williams, and it was a revelation. Prine and Guthrie quickly followed. The name Chicago Farmer was originally for a band, but the utilitarian life of driving alone from bar to bar, city to city – to make a direct connection to his audience and listener, took a deeper hold.