Asleep at the Wheel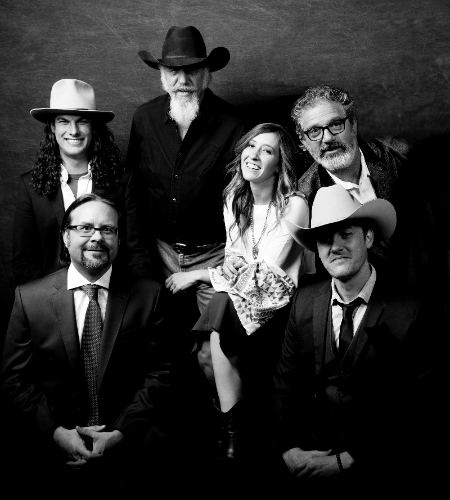 $51 Advance | $56 Day of Show
Doors 7pm | Show 8pm
**This performance has been cancelled. Orders paid by credit card will be automatically refunded. For those who paid with cash, please contact the box office at 508-324-1926 or boxoffice@narrowscenter.org.**
Ray Benson founded
Asleep at the Wheel
in Paw Paw, West Virginia 49 years ago. Now based in Austin, the band holds 10 Grammy awards, 20 studio albums and 20 singles on the Billboard country charts.
The Grammy Award-winning
Still The King: Celebrating the Music of Bob Wills and His Texas Playboys
was released in 2015 and marked their third full-length Bob Wills tribute album. Their most recent album "New Routes" is both a new path forward and a nod to the freewheeling roots (get it?) of one of Texas' most beloved bands, marking 2018 with their first album of new material in a decade. Asleep at the Wheel's newest members Katie Shore (fiddle, vocals), Dennis Ludiker (fiddle, mandolin), Connor Forsyth (keyboard, vocals) and Josh Hoag (bass), have given the band a newfound energy and their own unique style, and Asleep at the Wheel veteran David Sanger (drums) rounds it all out.
Also be sure to stay tuned in 2020 for Asleep at the Wheel's 50th Anniversary! It'll be a year filled with even more fresh takes on old tunes, exciting events across the country, and appearances by some of the original band members!
Between those Texas Twin Fiddles and Boogie Piano, you can bet you'll be dancin' down the aisles and swingin' all night long when the Wheel rolls into town!
About the opener,
Brennen Leigh
:
"Brennen Leigh plays guitar like a motherfucker." --
Guy ClarkBrennen Leigh
is an American songwriter, guitar player, mandolin player and singer whose to-the-point storytelling style has elevated her to cult icon status in Europe, Scandinavia, across the United States, South America and the United Kingdom. It's easy to see why she's caught the ear of greats like legendary Lubbock fiddler Tommy Hancock (widely regarded as the godfather of West Texas music), who was quoted as saying of Leigh's work; "It's great to hear music that affects you on an intellectual level as well as makes you want to dance".
All musical and performing prowess aside, the thing Leigh has become most famous for is her whip-smart songwriting. Her songs have been recorded by country music legend Lee Ann Womack, Rodney Crowell, Sunny Sweeney, Charley Crockett, Sarah Borges, Whitney Rose, Austin's The Carper Family, and Norway's Liv Marit Wedvik, among others. Leigh has collaborated with songwriting greats such as Rodney Crowell, Jim Lauderdale, John Scott Sherrill, Robbie Fulks, Charlie Louvin and David Olney. On the critically acclaimed duet album Holdin' Our Own (2008), Leigh sang duets penned with country rockabilly giant Jesse Dayton. In 2013 Leigh released the Gurf Morlix produced Before The World Was Made with her frequent songwriting and touring partner Noel McKay. In 2015, Leigh appeared on Don't Forget Me Little Darling, Remembering the Carter Family, along with fiddler Jenee Fleenor (Blake Shelton, Martina McBride) and guitarist Brandon Rickman (Lonesome River Band). Leigh was a core member of country bluegrass band High Plains Jamboree from 2015 to 2017, also featuring fiddler Beth Chrisman, guitarist Noel McKay and bassist and banjo player Simon Flory. Rolling Stone called the band "One of the Best Things We Saw at AmericanaFest."
Leigh is two time Texas Music Awards Best Female Vocalist, 2018 Ameripolitan Music Honky Tonk Award winner, appeared as a finalist on USA Network's Nashville Star television show in 2003, and most notably, was champion of the 1993 Vergas Loon Calling Contest as a child in her home state of Minnesota. It was there Leigh got her musical start, when she began touring at age fourteen as part of a mandolin and guitar duet with her brother Seth Hulbert. She lives in Nashville and is a staff writer at Writer's Den Music Group on Music Row.