Donna the Buffalo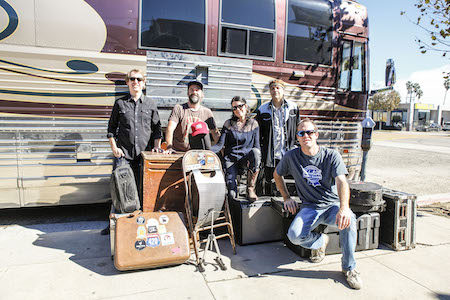 Thursday, September 29, 2022
$30 Advance | $33 Day of Show
Doors 7pm | Show 8pm

Donna the Buffalo offers everything you want in a roots band -- songs that matter, a groove that makes you dance, an audience that spans generations, and a musical voice that evokes a sense of community.

Dance in the Street, their first new album in five years, captures the dynamic energy that has earned the band the love and respect of their fans, "the Herd", for thirty years.
Donna The Buffalo is well known for their lyrics about human potential and community. Throughout Dance in the Street, Jeb Puryear and Tara Nevins, the band's co-founders, share songs of social commentary and self empowerment. "We feel the album provides an enjoyable ride between the general and the personal, from both male and female perspectives," says Puryear.
Puryear took it upon himself to write a topical song after a friend slyly commented, "We could use some songs like you used to write." That off-handed remark led directly to "Dance in the Street," which falls somewhere between Bob Dylan and Bob Marley, with lyrics:
For change of rule, we had better stand,
Before there's nowhere left to land,
Doomed to histories repeat,
It's time to dance in the street.
Nevins adapted the imagery in the lyrics from "Dance in the Street" to create the globally-inspired album cover.
"My songs on this record are about letting go," says Nevins. "Whether it be the attachment of love lost, the past, or the particular blue funk you're coming out of." Nevins in particular adds an interesting twist of "creating future" in Motor, the inspired second cut of the album with the chorus:
You'll be dancing under the moon before too long,
You'll be flying high as a kite when the wind gets blowing,
You'll be right back where you started,
You'll be holding tight to the motor that gets you going.

Donna the Buffalo joined forces with legendary Producer/ Engineer Rob Fraboni to record Dance in the Street at Sonic Ranch Studio in El Paso, Texas. Best known as producer of The Last Waltz soundtrack, Fraboni is also acclaimed for his work with Bob Dylan, The Band, Eric Clapton, and The Rolling Stones. Fraboni set out to capture the essence of Donna The Buffalo's live performances on a studio record. He had the band record in a circle directly to tape. Dance In The Street is a fully analog recording all the way to vinyl. The track list alternates in his-and-hers fashion; even so, Nevins believes the album makes a cohesive statement. "We think of it as painting a picture and I like the picture that we've painted with this record," she says.