Ana Popovic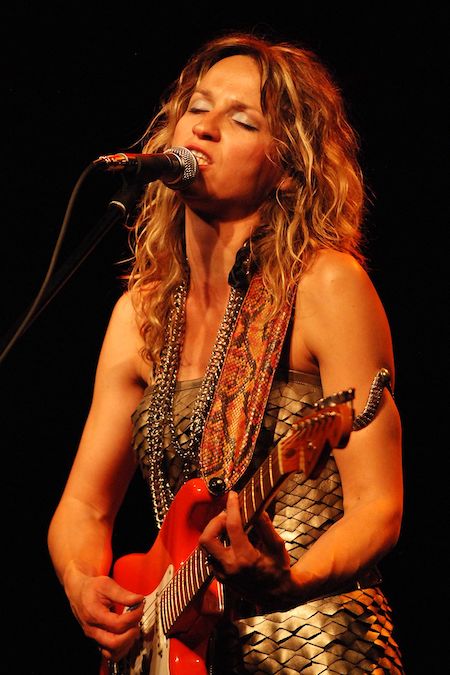 Saturday, May 20, 2023
$38 Advance | $40 Day of Show
Doors 7pm | Show 8pm

Ana Popovic celebrating 20 years as a touring musician. The award-winning guitar player, singer and songwriter therefor releases 'Live for LIVE', an exciting hour and a half CD & DVD demonstrating why she's proudly looking back at a career of thousands of shows worldwide. This high-energy concert showcases not only Ana's mesmerizing guitar skills but also her fabulous band, successfully merging musical styles. Ana's passion on stage is so evident that the title sums it up, this IS what she lives for.

"It's really hard to believe that twenty years ago, I gave up a career in graphic design, formed the Ana Popovic band, and decided to be a full-time musician. Soon after, I traveled to Memphis to record HUSH!, my first solo release," says the hard-touring guitar slinger speaking from her home in Los Angeles. "I had big dreams back then and I still dream big today."
"Around that time, I appeared as a special guest on tour with Michael Hill. It was my first North American tour and that springboarded me to the point where today, two decades later, I can proudly look back at a career of thousands of shows over five continents. I've successfully merged musical styles and inspired a new generation of guitar players male and female to start pursuing their dreams, regardless of where they were born. Sometimes, the clichés about (music) business are right. If you work hard enough and want it bad enough, you can make anything happen."
"It feels like just yesterday, I started this project in a garage in Belgrade. Friends and family where supportive, a try-out show at a local bar became a steady gig, and through perseverance and hard work, here we are now. To celebrate the occasion, my six-piece band is walking down memory lane playing music of all of my albums. I'm excited to play older tunes I haven't played in a while, giving 'fans of the first hour' that sweet 'a-ha feel'.