Howard Jones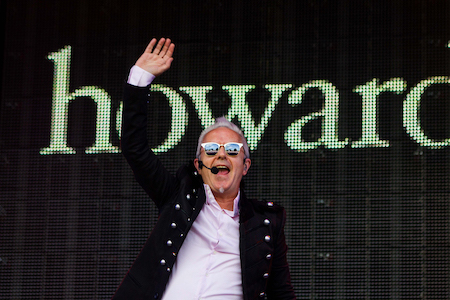 $54 Advance | $55 Day of Show
Doors 7pm | Doors 8pm
*Howard Jones' 3/17 show at the Narrows has been cancelled. Orders paid by credit card will be automatically refunded. For those who paid with cash, please visit us in the box office. Office hours are Wed - Sat from 12pm - 5pm.*
Featuring
Howard Jones
,
Nick Beggs
&
Robin Boult
Electronic music pioneer
Howard Jones
has been a constant presence on the international touring scene for the past three decades, playing live in a number of different configurations including intimate solo shows and dates with his full high-tech band set-up. Jones is now touring with his acoustic trio featuring himself on vocals and electric piano, Robin Boult (Roger Daltrey, Dave Stewart, Fish) on acoustic guitar and Nick Beggs (Kajagoogoo, Steven Wilson, Belinda Carlisle, John Paul Jones) on chapman stick. These shows promise to deliver a fresh take on Howard's best-known hits. These shows also provide the opportunity for the audience to hear first-hand about the inspiration behind Howard's beloved material as well as stories from his touring career.
Jones first burst upon the contemporary music scene in 1983, with his very English songwriting and pioneering synthesizers. His first two albums HUMAN'S LIB and DREAM INTO ACTION were worldwide hits. HUMAN'S LIB reached #1 in 1984 in the UK and featured the hits "New Song," and "What Is Love?" In 1985, Jones released the follow-up, DREAM INTO ACTION, which quickly became a Top Ten platinum album in the United States and featured the smashes: "Things Can Only Get Better," "Life In One Day," "No One Is To Blame," and "Like To Get To Know You Well." Howard Jones has sold over eight million albums worldwide and continues to make new music and tour the world.
His most recent album is TRANSFORM, his first new studio album in nearly a decade. Released in 2019 to critical acclaim, TRANSFORM features several collaborations with electronica luminary BT. Of the album, Paste avowed, "TRANSFORM is remarkably consistent to Jones' lush brand of synthpop…a balance of what is familiar and what is innovative, new magic from old spells" while Pop Matters declared the album to contain "dazzling synth sounds, catchy melodies and introspective and life-affirming lyrics – but with a contemporary feel."
Jones recently performed on NBC's top-rated morning and nighttime shows respectively,
Today
and
The Tonight Show Starring Jimmy Fallon
. He's excited to take his trio on the road to perform his hits, fan favorite sand new songs from TRANSFORM.
About the opener,
Rachael Sage
:
Since founding her own label MPress Records two decades ago, NYC-based alt-pop artist Rachael Sage has steadily released a slew of vibrant, dynamic albums with poetic lyrics spanning subjects as wide as her inspirations. She has toured with an eclectic list of artists including Ani DiFranco, Beth Hart, Sarah McLachlan, Judy Collins and Howard Jones. Sage also continues to significantly grow her visibility via her many song placements, including 22 songs on top reality show
Dance Moms
, translating into over 10 million YouTube hits. Her new single and video, "Bravery's On Fire," is a universal anthem about finding strength, courage and resilience in the face of vulnerability. Recorded in the midst of her own recent cancer experience, all proceeds from the song will benefit women's cancer research. Sage's upcoming album,
Character
(out March 6), is an inspirational tribute to survivorship. The collection reflects on such concepts as identity, compassion, authenticity, optimism, and mindfulness. As Sage confesses, "I don't think I understood the full meaning of the word 'character' until I was suddenly required to redefine my own…if there is a silver-lining in all of this, it's that I have a much deeper relationship to gratitude."
"One of music's most inimitable iconoclasts." — BlackBook
"Her keen, ironic sense of humor and quirky sense of the profound is what makes her special as a songwriter" — Billboard.com