The Jayhawks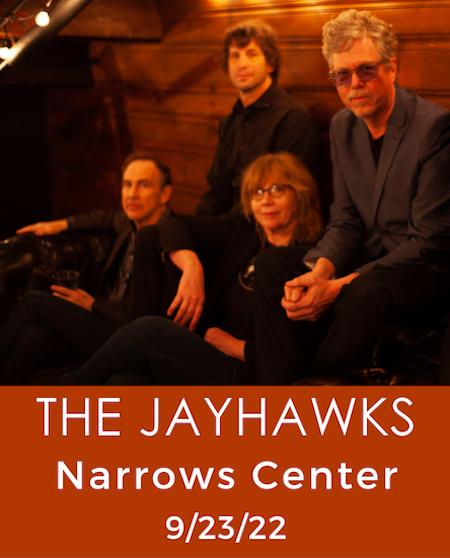 Friday, September 23, 2022
$50 Advance | $53 Day of Show
Doors 7pm | Show 8pm
Opener: Wesley Stace

The incredible harmonies and distinctive arrangements of The Jayhawks set them apart from the rest of the Minneapolis music scene that emerged in the 1980s. Over the course of almost 4 decades, 11 albums, countless memorable live shows and enough personal drama to fill a couple of Behind the Music episodes, this beloved band soared to heights few ever achieve while winning the hearts and minds of numerous critics, fans and peers in the process.

After releasing 2 Indie albums in the 80s, The Jayhawks had become a driving force and inspiration behind the growing Americana movement in the early 1990s. Combining the talents of singer-songwriters Gary Louris and Mark Olson, The Jayhawks released their major label debut, the acclaimed Hollywood Town Hall (1992) on the Def American label. This was followed by Tomorrow the Green Grass (1995), which produced the alternative radio hit single "Blue."
When Olson left to pursue a solo career, Louris singularly took over the songwriting role in The Jayhawks creating the band's enduring sound on some of their best selling and well-received albums including Sound of Lies (1997), Smile (2000) and Rainy Day Music (2003).
Louris continues to write and tour with the longtime core group of Marc Perlman, Karen Grotberg, and Tim O'Reagan. While the touring line-up has changed over the years and Olson briefly reappeared in 2010 to record and tour, this classic lineup maintains a commitment to excellence and forward motion in their shows and in their recordings. Paging Mr. Proust (2016), was produced in Portland with Peter Buck and Tucker Martine and found the band moving in several new exciting directions. The band's 10th studio album, Back Roads And Abandoned Motels, was released in the summer of 2018, featuring Jayhawks versions of songs Gary Louris had previously written with other artists plus 2 new compositions. In July 2020 The Jayhawks released their latest album, XOXO, that features songwriting and lead vocal contributions from all 4 core members.
The Jayhawks have made music in 4 different decades and are as vital now as they were in 1985. They definitely have earned their reputation as a true American treasure.



About the opener:


Wesley Stace was born in Hastings, East Sussex in 1965. He released many albums under the name John Wesley Harding, before switching back to his birth name for more recent recordings, including 2021's Late Style. He has recorded duets with, among others, Bruce Springsteen, Lou Reed, and Rosanne Cash. Stace has published four novels, including the international bestseller Misfortune, and recently co-wrote Mark Morris' memoir Out Loud. He also created Cabinet of Wonders, a monthly show that plays at New York City's City Winery, and which The New Yorker called "one of the finest nights of entertainment this city has to offer." He has taught at Princeton, Swarthmore and Fairleigh-Dickinson, and writes regularly for the Times Literary Supplement and the Wall Street Journal. He lives in Philadelphia.